The ACLU of Massachusetts does not endorse political candidates
---
Sheriffs have the power to make our communities safer and more just for all—but most Massachusetts voters don't even know who their sheriff is.   
It's time to change that. It's time to Know Your Sheriff. 
Know Your Sheriff is a public education campaign by the ACLU of Massachusetts to build voter awareness about the life-changing decisions that sheriffs make. 
Polling shows that many voters are not familiar with sheriffs—but when they learn more, they are more likely to cast a ballot for sheriff in the next election.  
Polling also shows that voters favor treatment and education over punishment. 
Knowing your sheriff means knowing that YOU have the power to demand safer communities and a more just criminal legal system. 
Join our campaign and learn about all the ways your ballot can promote justice and public health this fall. 
---
Know the Candidates:
Use this candidate tracker to see who is running in your county.
*Please note that this tracker reflects the outcome of the September Primary but it does not include write-in candidates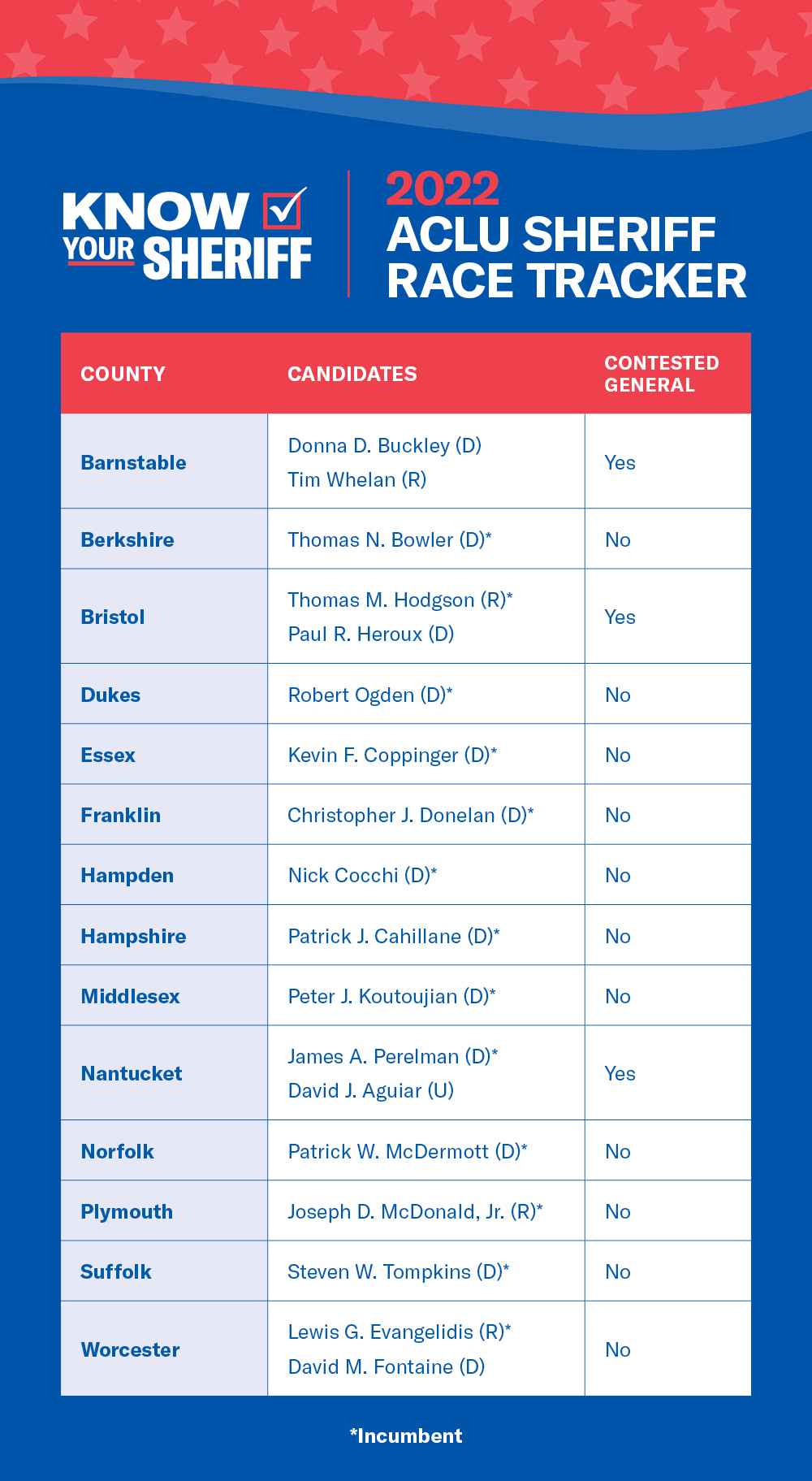 ---
Candidate Questionnaire Responses
Learn more about the candidates running in your county by reviewing the ACLUM questionnaires they completed:
Note: Candidates who have not responded to the Q&A are marked (Pending) and may or may not submit responses.
Barnstable
Berkshire
Thomas N. Bowler (Pending)
Bristol
Dukes
Essex
Franklin
Christopher J. Donelan (Pending)
Hampden
Hampshire
Middlesex
Nantucket
James A. Perelman (Pending)
David J. Aguiar (Pending)
Norfolk
Plymouth
Joseph D. McDonald Jr. (Pending)
Suffolk
Worcester
Lewis G. Evengelidis (Pending)
David M. Fontaine (Pending)
---
Digital Tool:
Look up your sheriff and learn additional important details ahead of elections.
---
Important Dates: 
Primary Election: September 6, 2022 
General Election: November 8, 2022