Our democracy faces serious threats—but the ACLU is built for this fight. In Massachusetts and across the nation, we are pushing forward. Together, we will secure our fundamental rights.
---
MEET THE MATCH
→ACLUM video produced by Opalite Media
"My support of the ACLU is about investing in the premier organization fighting back against every threat to our civil rights and civil liberties. As a Black man, this work is deeply personal to me and my loved ones. Racial justice has long been a consistent thread that ties all ACLU issues together: voting rights, reproductive justice, immigrant's rights, and more. I am pleased to offer this year's match, where your generous support will be doubled up to $50,000. Join me in giving to the ACLU before December 31, 2022 — visit www.aclum.org/match today!" — Greg Shell, new ACLU supporter and long-time believer in doing well and good at the same time
---
VOTING RIGHTS
→ ACLU of Massachusetts' voting rights coalition at a Valentine's Day press event.
Civil rights and civil liberties depend on safeguarding democratic norms and constitutional rights — starting with the right to vote. The ACLU is challenging voter suppression laws and fighting for fair districts in states across the country, including a case before the U.S. Supreme Court to block partisan gerrymandering in Alabama. In Massachusetts, we won passage of the VOTES Act this year. This reflects the greatest expansion of voting rights in years, enshrining policies like universal mail-in ballots for all future elections.
---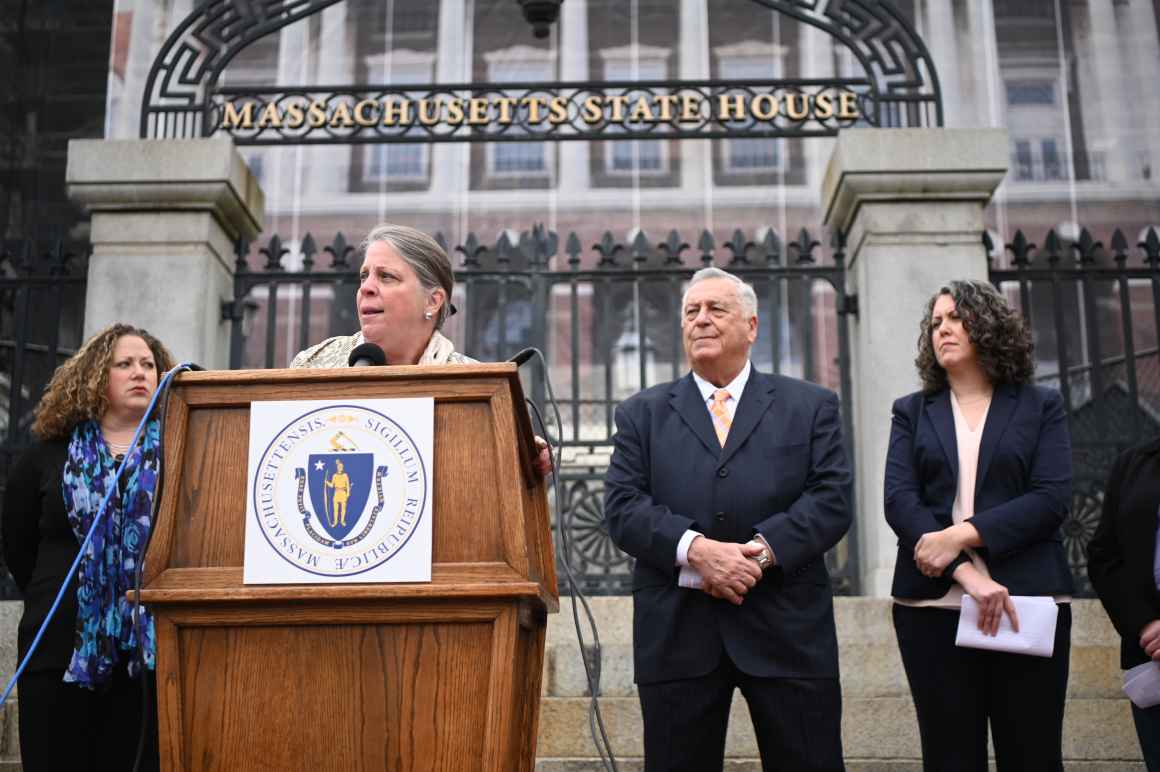 → ACLU of Massachusetts Executive Director Carol Rose speaks at a press conference the day after the leaked Dobbs decision.
REPRODUCTIVE JUSTICE
In response to the Supreme Court's decision reversing 50 years of federal constitutional protections for abortion, the ACLU redoubled our efforts to secure reproductive justice across the country. In Massachusetts, we passed a first-in-the-nation law to expand legal protections for both patients and providers. Nationwide, we filed eight emergency lawsuits and secured three rulings to block abortion bans, buying crucial time for patients and providers. In Kansas, Michigan, Kentucky, and Vermont, the ACLU played a key role in mobilizing voters to protect abortion rights at the ballot.
---
DIGITAL PRIVACY & SURVEILLANCE
→ Freedom Unfinished is a narrative podcast hosted by ACLU of Massachusetts. Follow the series wherever you listen to podcasts!
With rampant government surveillance and data brokers selling our most personal information, it's clearer than ever that we need robust data privacy laws. Our Technology for Liberty Program convenes data scientists, legal advocates, and people most impacted to ensure that technology is used to enhance liberty, rather than diminish it. Our Data for Justice website highlights ways in which data can be used to shine a light on government practices and inequities. This year, we launched Freedom Unfinished — a four-part podcast series that explores the impact of emerging technologies on civil liberties and democracy.
---

→ 2021 March for George Floyd
RACIAL JUSTICE
Our commitment to racial equality and anti-discrimination is woven throughout the ACLU's work. Our Racial Justice Program in Massachusetts continues to measure and challenge racial disparities in police and prosecutorial practices, in voting, and in health care access. We also work to challenge government reliance on surveillance technologies and algorithmic systems that exacerbate racial disparities in both public and private spheres.
---
→ACLU of Massachusetts Field Director, Laura Rótolo, and The Driving Families Forward Coalition gathered at the State House for the Work and Family Mobility Act signing ceremony
IMMIGRANTS' RIGHTS
Over the past two years, the ACLU has focused on rolling back the Trump administration's notoriously cruel immigration policies. Our team continues to lead a taskforce to locate and reunite the hundreds of families that have yet to be found after they were separated by the federal government almost five years ago. Meanwhile, in Massachusetts, after 20 years of advocacy, we helped to pass a historic bill that lets all qualified drivers apply for licenses and become insured, regardless of their immigration status. And we successfully fought off a feardriven ballot campaign to repeal this law.
---
LGBTQ EQUALITY
Extremists on the U.S. Supreme Court have signaled their intent to target LBGTQ rights, including equal marriage, workplace protections, and the right to seek gender-affirming care. Around the country, the ACLU is spearheading the defense of trans kids against unconscionable attacks in states like Texas and Arkansas. In Massachusetts—where trans-inclusive providers have faced death threats and bomb scares—we secured protections for gender-affirming care in a new law signed by the governor in July.
---
FREEDOM OF SPEECH
For over 100 years, the ACLU has been committed to the principles of freedom of speech, a free press, and the right to associate. Today, we are leading the nationwide fight against attempts to ban books and censor educators' discussions about racism, gender discrimination, and other "divisive concepts" in several states. Here in Massachusetts, the ACLU fought a proposed ballot question to restrict the teaching of controversial subjects, successfully petitioning the attorney general to strike down the question as a violation of free speech.
---
CRIMINAL LAW REFORM
While some still cling to the failed approaches and tired rhetoric of the "tough on crime" era, the ACLU and our partners around the country are fighting for a criminal legal system that prioritizes evidence-based solutions, grounded in both racial justice and public health. In Massachusetts, we launched the "Know Your Sheriff" voter education campaign to highlight the life-changing decisions that sheriffs make— and show how voters can elect law enforcement officials who prioritize the power of healing over punishment and retribution.
---