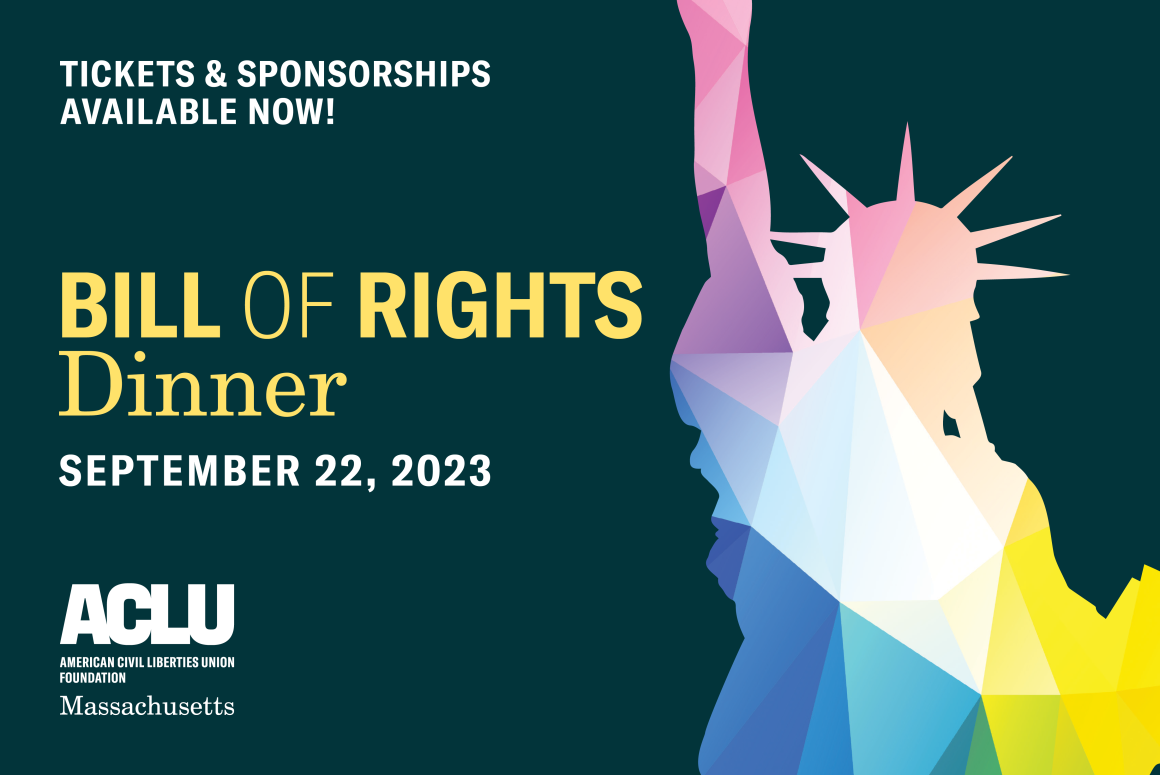 Ticket purchases have closed for the ACLU Bill of Rights Dinner. If you have any Dinner-related questions, please call 617-482-3170 x312
---
Join the ACLU Foundation of Massachusetts for our annual Bill of Rights Dinner on Friday, September 22, 2023 at 5:30 p.m. at the Omni Boston Hotel at the Seaport. 
---
We are excited to gather with ACLU supporters and champions from across the Commonwealth to celebrate the ACLU's work fighting for reproductive freedom, racial justice, voting rights, LGBTQ equality, immigrants' rights, criminal law reform, freedom of expression, and freedom from surveillance.    
For over 100 years, the ACLU has been our nation's guardian of liberty, working in courts, legislatures, and communities to defend and preserve the individual rights and liberties that the Constitution and the laws of the United States guarantee everyone in this country.  
For questions, please email dinner@aclum.org.
---
Honoree  

Devin McCourty  
Devin McCourty played as a defensive back for the New England Patriots since being drafted in the first round by the team in 2010 and went on to win three Super Bowls before retiring in March 2023. Coupled with his distinguished NFL career, Devin has been a driving force behind efforts focused on health care, youth development and social justice in the Boston community. Devin is a champion on ACLU's racial justice work, having worked together on initiatives to make Massachusetts a more equitable state. 
---
Speaker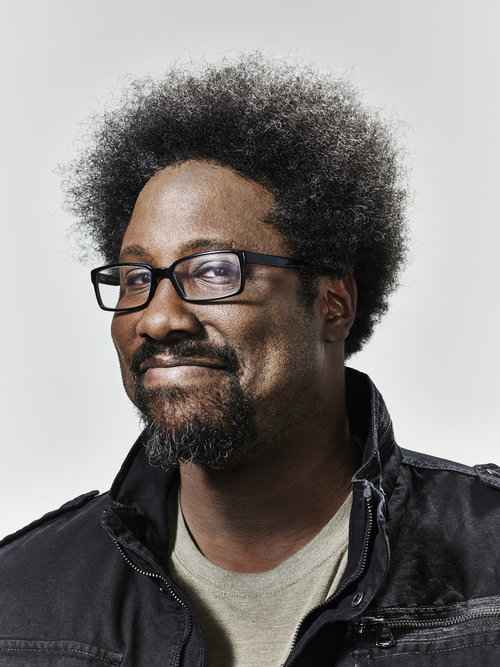 W. Kamau Bell 
W. Kamau Bell is a stand-up comedian and the director and executive producer of the four-part Showtime documentary, We Need To Talk About Cosby, which premiered at Sundance. He also hosts and executive-produces the Emmy Award winning CNN docu-series United Shades of America with W. Kamau Bell. His new book, Do The Work: An Antiracist Activity Book, co-written with Kate Schatz, is forthcoming from Workman in July. His most recent stand-up comedy special, Private School Negro, is available on Netflix. Kamau's first book has an easy-to-remember title, The Awkward Thoughts of W. Kamau Bell: Tales of a 6' 4", African American, Heterosexual, Cisgender, Left-Leaning, Asthmatic, Black and Proud Blerd, Mama's Boy, Dad, and Stand-Up Comedian. He's the ACLU Celebrity Ambassador for Racial Justice and serves on the board of directors of Donors Choose and the advisory board of Hollaback! 
---
Entertainment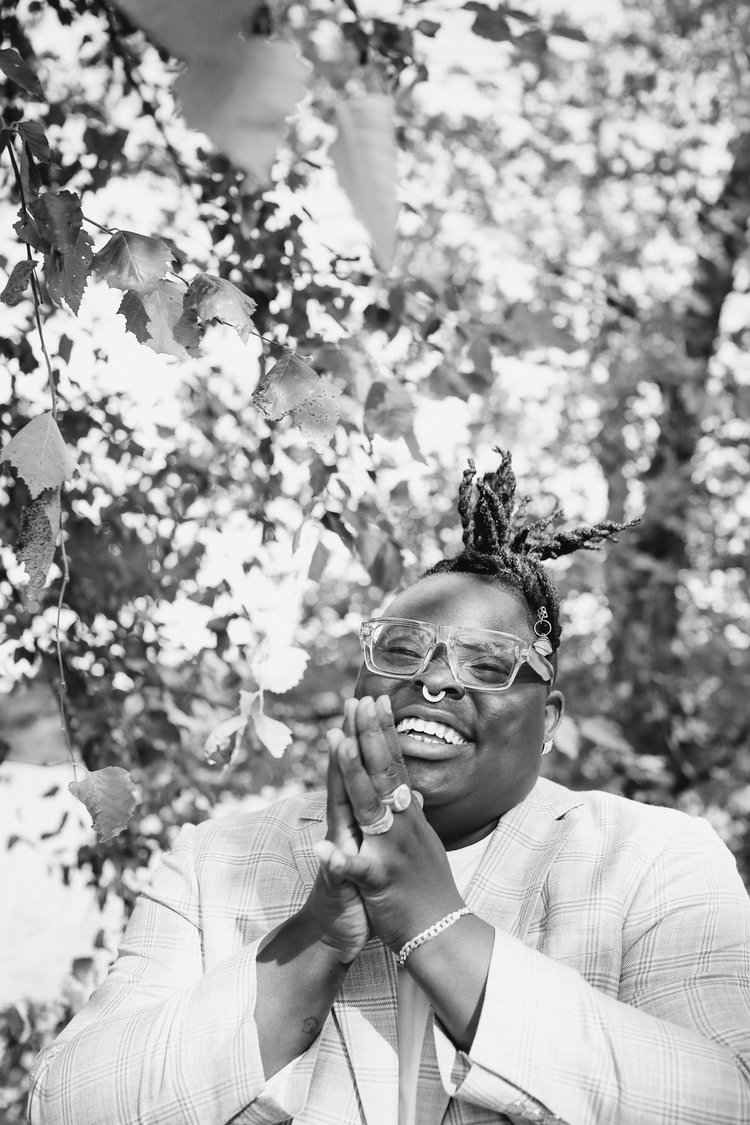 Porsha Olayiwola  
Porsha Olayiwola is a native of Chicago who writes, lives, and loves Boston. Olayiwola is a writer, performer, educator, and curator who uses afro-futurism and surrealism to examine historical and current issues in the Black, woman, and queer diasporas. She is an individual world poetry slam champion and the founder of the Roxbury Poetry Festival. Olayiwola is Brown University's 2019 Heimark Artist-In-Residence as well as the 2021 Artist-In-Residence at the Isabella Stewart Gardner Museum. She is a 2020 poet laureate fellow with the Academy of American Poets. Olayiwola earned her MFA in Poetry from Emersen College and is the author of I Shimmer Sometimes, Too. Olayiwola is the current poet laureate for the City of Boston.  
---
Justice Sponsor 
Ann Burks Sagan and Paul Sagan
Boger Family Foundation 
Ellen Paradise Fisher
Nicki Nichols Gamble
Norma and Ben Shapiro 
Stephen Kay and Lisbeth Tarlow
Constitution Sponsor 
Burns & Levinson LLP 
Carol Rose and Tom Harrington 
Daniel L. Goldberg   
Eastern Bank
Foley Hoag
Fiduciary Trust Company
Fish & Richardson
Goldman Sachs
Goodwin
Goulston & Storrs 
Harmony Wu
Holly Gunner and Anne Chalmers 
Patriots Foundation
Philippe and Kate Villers 
Stanley N. Griffith and Ann E. Schauffler
Suma Nair and Colin Dean
Susan Whitehead 
WilmerHale  
Freedom Sponsor  
AE Events 
Allen & Overy 
Anderson & Kreiger
Boston Pride for the People 
Carrie Chatterson Studio
Citizens' Housing and Planning Association 
Discovering Justice 
Ellen Feingold 
Embrace Boston Festival  
Garden of Eden & Associates, Inc.
GLAD 
Greater Boston PFLAG 
Hirsch Roberts Weinstein LLP
Howard and Fredericka Stevenson 
Hyams Foundation
Jane Doe Inc.   
Jewish Alliance for Law and Social Action
Jim Ward and Anne DeSouza Ward  
Judith Obermayer 
Lawson & Weitzen, LLP   
Massachusetts Black Lawyers Association
Massachusetts Communities Action Network 
Massachusetts Health Council 
Massachusetts Lawyers Weekly 
Massachusetts Teachers Association
McCarter & English 
MCLE | New England  
Mintz 
MIRA Coalition 
Morgan Lewis  
National Lawyers Guild Massachusetts Chapter 
New Commonwealth Fund 
New England Innocence Project
Nixon Peabody 
Nutter 
Opalite Media  
Planned Parenthood League of Massachusetts
Reproductive Equity Now 
Ropes & Gray 
Sullivan & Worcester LLP  
The Boston Foundation
Todd & Weld LLP     
Trans Political Coalition  
Urban League of Eastern Massachusetts  
William Zucker and Laurent Delli-Bovi
Women's Bar Association 
---
Featured Beacon of Liberty Circle Member
Proskauer
---
2023 Host Committee 
Naomi Aberly and Laurence Lebowitz 
Amy and Joshua Boger
David Bowman
Stephen Chan
Howard Cooper 
Ellen Paradise Fisher
Nicki Nichols Gamble 
Judge Nancy Gertner (Ret.) and John Reinstein
Robert and Linda Glassman  
Don Glazer 
Stanley N. Griffith and Ann E. Schauffler   
Holly Gunner and Anne Chalmers  
Rahsaan and Trinette S. Hall  
Geraldine S. Hines 
Stephen Kay
Ann Lambert 
Daniele Lantagne and Jeremy Brown  
Maria Manning  
Martha Minow and Joe Singer 
Marty Murphy and Jill Reilly  
Sarah Patrick 
Colette Phillips  
Kevin and Daniella Prussia 
John and Kathy Roberts 
Carol Rose and Tom Harrington  
Ann Burks Sagan and Paul Sagan 
Jocelyn Sargent
Norma and Ben Shapiro 
Thomas Shapiro and Nadine Bonda 
Ambassador John Shattuck and Ellen Hume 
Harvey Silverglate 
Marjorie Suisman 
Bob Thomas and Polly Hoppin 
Phil and Kate Villers 
Lauren Weitzen
Susan Whitehead
Douglass Williams  
Harmony Wu
William Zucker and Lolly Delli-Bovi 
---
Arnie Reisman Freedom of Expression Fund
Learn about the Arnie Reisman Freedom of Expression Fund here.