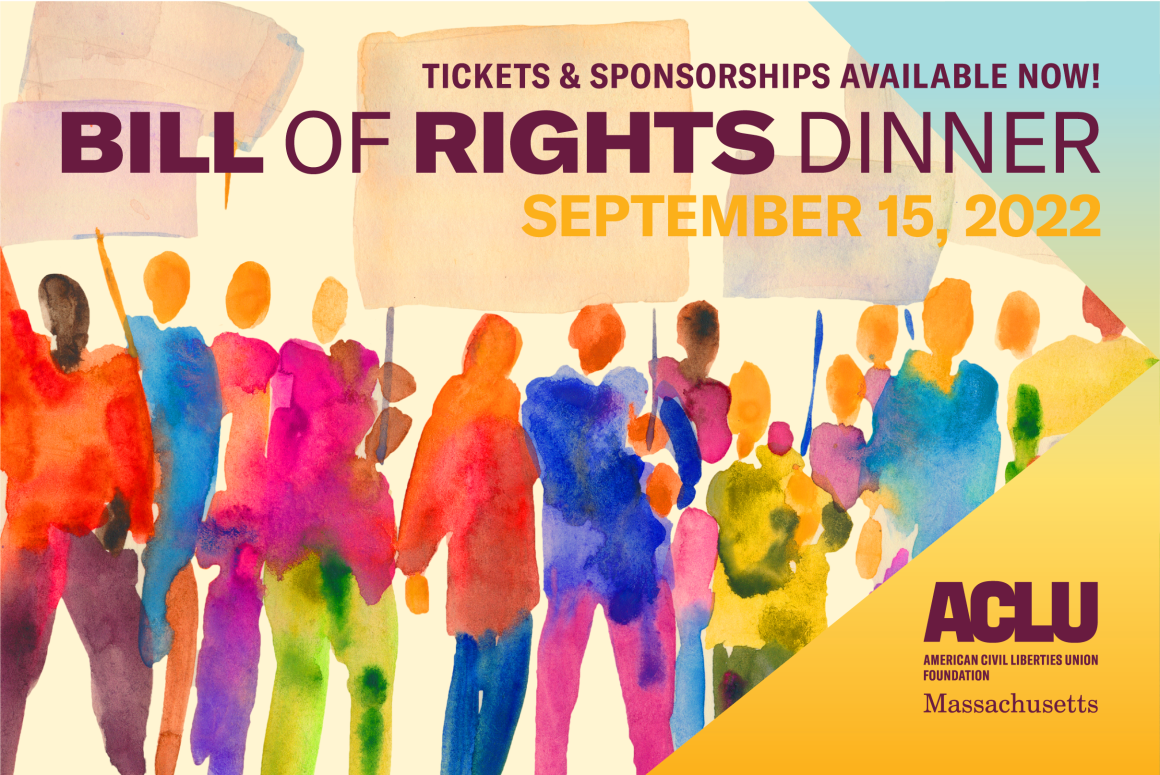 Join the ACLU Foundation of Massachusetts for our annual Bill of Rights Dinner on Thursday, September 15, 2022 at 5:30 p.m. at the Westin Copley Place Hotel in Boston.
We are excited to gather again, after some time apart, with ACLU supporters and champions from across the Commonwealth to celebrate the ACLU's work fighting for immigrants' rights, racial justice, voting rights, LGBTQ equality, reproductive freedom, criminal law reform, freedom of expression, and freedom from surveillance. This year, we are offering a hybrid option for supporters who wish to attend from their homes.
For over 100 years, the ACLU has been our nation's guardian of liberty, working in courts, legislatures, and communities to defend and preserve the individual rights and liberties that the Constitution and the laws of the United States guarantee everyone in this country. 
For questions, please email dinner@aclum.org.
---
Speaker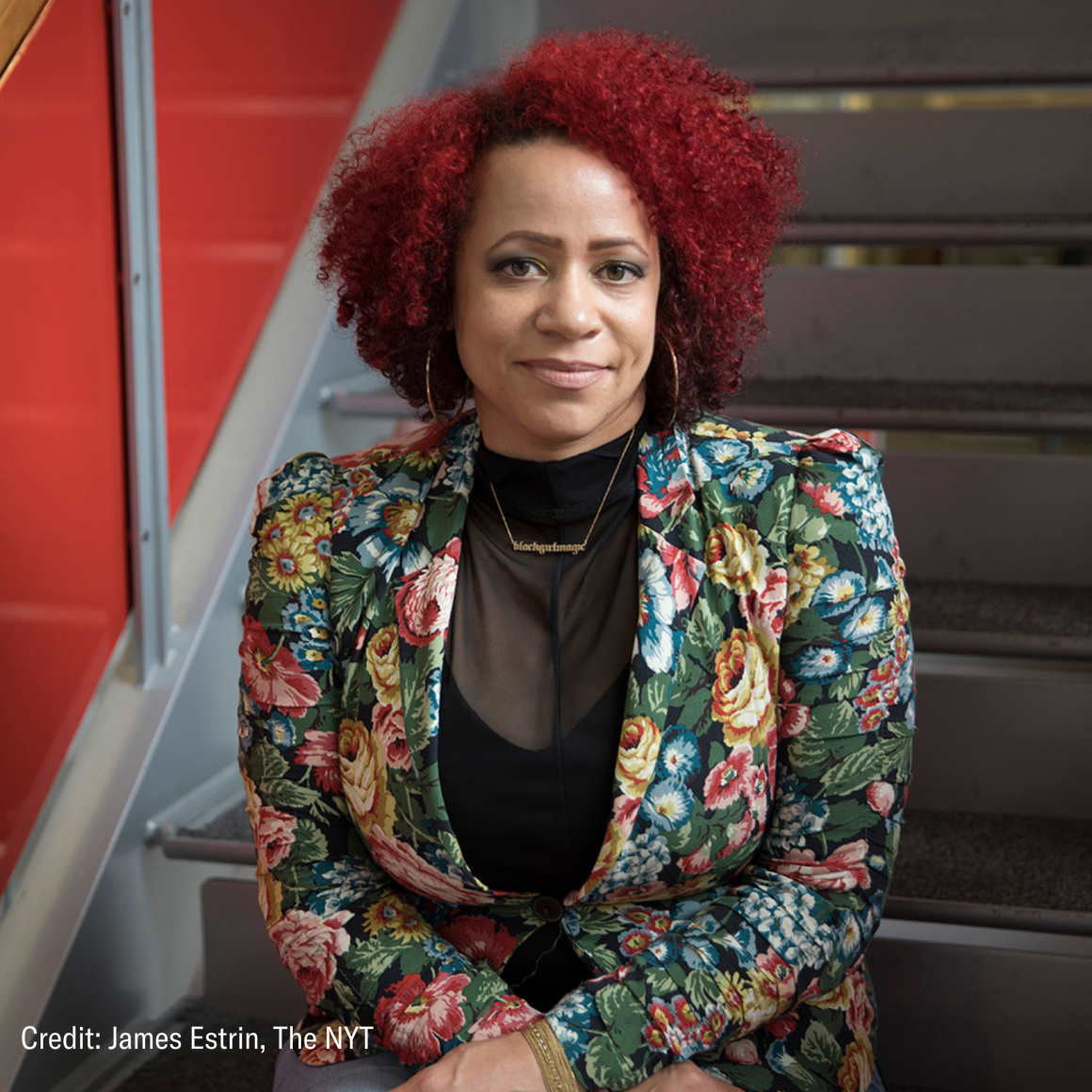 Nikole Hannah-Jones
Nikole Hannah-Jones is the Pulitzer Prize-winning creator of 'The 1619 Project' and a writer at The New York Times Magazine who has spent her career investigating racial inequality and injustice. Her reporting earned her the MacArthur Fellowship, a Peabody Award, two George Polk Awards, and the National Magazine Award three times. Named one of TIME's 100 Most Influential People in the World, Hannah-Jones serves as the Knight Chair of Race and Journalism at Howard University, where she is founding the Center for Journalism & Democracy. Hannah-Jones is also the editor of The 1619 Project: A New Origin Story, an instant #1 New York Times bestseller. Library Journal writes, "this invaluable book sets itself apart by reframing readers' understanding of U.S. history, past and present."
---
Honoree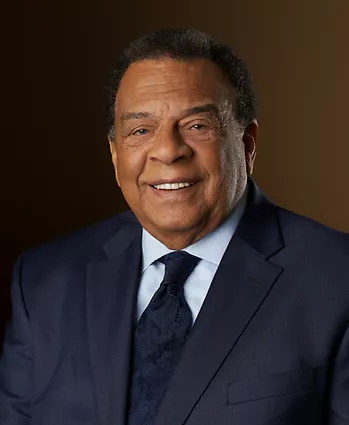 Andrew Jackson Young
Andrew J. Young has earned worldwide recognition as a pioneer in and champion of civil and human rights. Young's lifelong dedication to service is illustrated by his extensive leadership experience of over sixty-five years, serving as a member of Congress, African American U.S. Ambassador to the United Nations, Mayor of Atlanta, and ordained minister, among other positions. During the 1960s, Andrew Young was a key strategist and negotiator during Civil Rights campaigns that led to the passage of the Civil Rights Act of 1964 and the Voting Rights Act of 1965. Young has received honorary degrees from more than 100 universities and colleges in the U.S. and abroad and has received various awards, including an Emmy Lifetime Achievement award in 2011 and the Dan Sweat Award in 2017.
---
Entertainment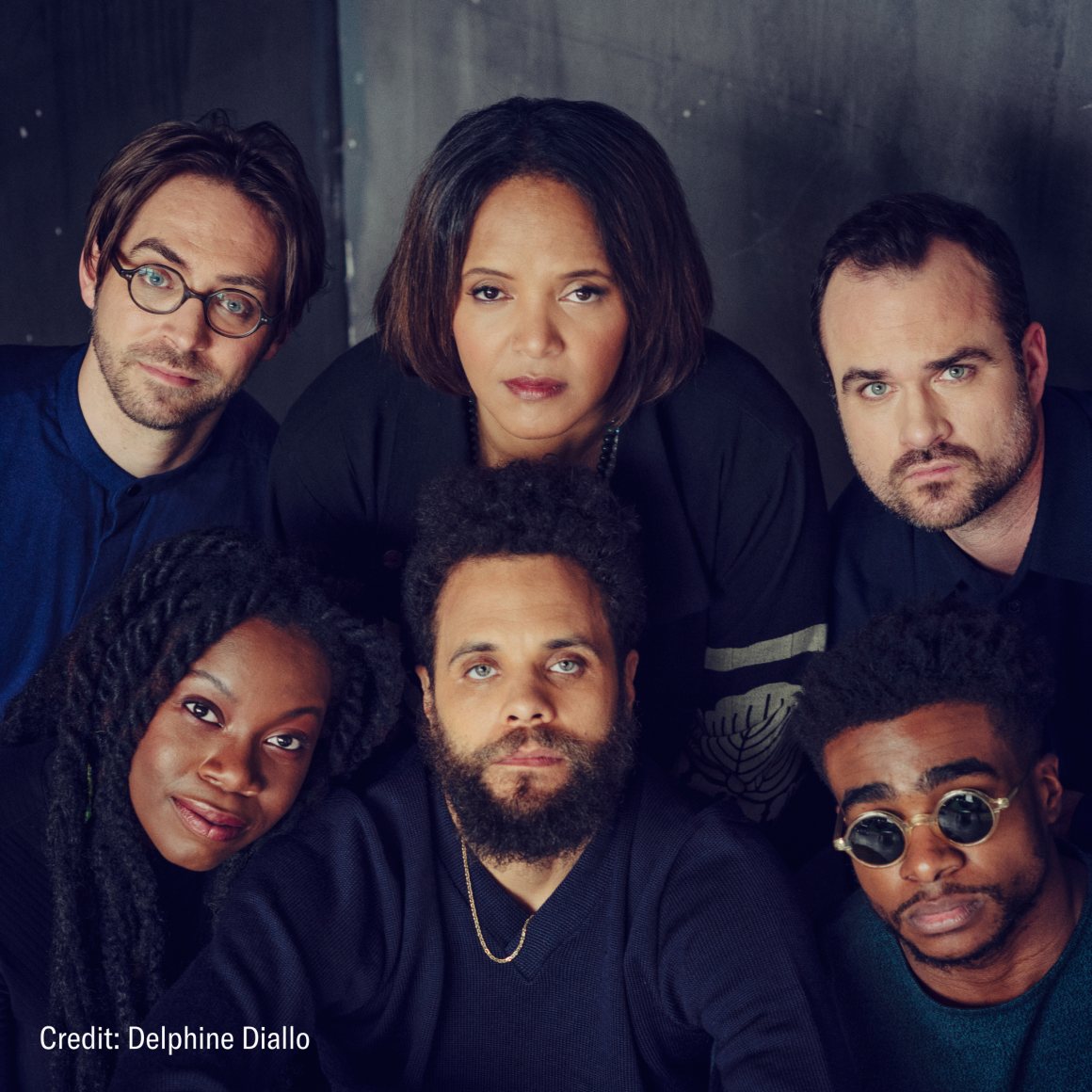 Terri Lyne Carrington + Social Science
Terri Lyne Carrington is a 2021 NEA Jazz Master and three-time Grammy award-winning drummer, composer, producer, and educator. She serves as Founder and Artistic Director of the Berklee Institute of Jazz and Gender Justice in Boston, MA, and artistic director for the Carr Center in Detroit, MI. She has performed on over 100 recordings and has toured and recorded with luminaries such as Wayne Shorter, Herbie Hancock, Stan Getz, Esperanza Spalding, and numerous others. Her current band project, Terri Lyne Carrington + Social Science released their debut album, Waiting Game, in 2019 which was nominated for a 2020 Grammy Award.
---
Justice Sponsor 
Ann Burks Sagan and Paul Sagan
Boger Family Foundation
Liberty Sponsor 
Nicki Nichols Gamble
Constitution Sponsor
Burns & Levinson LLP 
Daniel L. Goldberg
Eastern Bank
Ellen Paradise Fisher
Fiduciary Trust Company
Fish & Richardson
Foley Hoag
Goodwin
JB Kittredge and Winand van Eeghen
Kim Marrkand and Kathleen Henry
Lael and Charles Chester
Marty Murphy and Jill Reilly
Nesli Basgoz, Frederick Ek, Ellen Lubell and David Nathan, Maren Anderson and Duke Collier
Norma and Ben Shapiro
Stanley N. Griffith and Ann E. Schauffler
Stephen Kay and Lisbeth Tarlow
Suma Nair & Colin Dean
Susan Whitehead
Thomas Shapiro and Nadine Bonda
WilmerHale
Freedom Sponsor 
AE Events 
Anderson & Kreiger 
The Boston Foundation
Carrie Chatterson Studio
David Bowman
Diane Patrick
Dick and Mary Neumeier
Discovering Justice
Ellen Feingold
GLAD
Goulston & Storrs
Greater Boston PFLAG
Harmony Wu
Hirsch Roberts Weinstein LLP
Howard and Fredericka Stevenson 
Jewish Alliance for Law and Social Action
Jim Ward and Anne DeSouza Ward
Judith Obermayer 
Kirsten Mayer and Craig Ceol 
Lawson & Weitzen, LLP
Massachusetts Communities Action Network
Massachusetts Health Council 
Massachusetts Lawyers Weekly
Massachusetts Women's Political Caucus
McCarter & English
Mintz
MIRA Coalition
Morgan Lewis
Nancy Cornelius
Nancy Gertner and John Reinstein
National Lawyers Guild Massachusetts Chapter 
Nellie Mae Education Foundation
Nixon Peabody
Opalite Media
Planned Parenthood League of Massachusetts 
Reproductive Equity Now
Ropes & Gray
Sullivan and Worcester 
Todd & Weld
---
2022 Host Committee 
Naomi Aberly and Laurence Lebowitz
Marjie Alonso 
Ramon Alonso
Charles H. "Buzzy" Baron 
Amy and Joshua Boger
Stephen Chan
Michael and Kitty Dukakis
Ellen Paradise Fisher
Nicki Nichols Gamble
Judge Nancy Gertner (Ret.) and John Reinstein
Don Glazer
Stanley N. Griffith and Ann E. Schauffler
Geraldine Hines
Ann Lambert
Daniele Lantagne and Jeremy Brown
Paula Lyons
Maria Manning 
Martha Minow and Joe Singer
Sarah Patrick
Kevin Prussia
John and Kathy Roberts
Carol Rose and Tom Harrington 
Ann Burks Sagan and Paul Sagan
Jocelyn Sargent
Norma and Ben Shapiro
Thomas Shapiro and Nadine Bonda
Ambassador John Shattuck and Ellen Hume
Harvey Silverglate
Bob Thomas and Polly Hoppin
Phil and Kate Villers
Lauren Weitzen
Susan Whitehead
Sarah Wunsch
---
The Arnie Reisman Freedom of Expression Fund
The Arnie Reisman Freedom of Expression Fund was conceived by Paula Lyons, Judy Samelson and Bill Schawbel to carry on Arnie's passion for words, transformative journalism and activist art. Arnie's favorite expression was "I never met a phrase I couldn't turn!" And turn them he did in every creative way possible.  In newspapers, TV shows, documentaries, plays and finally poetry. He supported the ACLU because he saw it actually taking action to inspire and support freedom of expression in the Commonwealth and beyond. Because Arnie was an integral partner in our annual Bill of Rights dinner, the fund in his name aims to promote his legacy. We are committed to supporting the work of protecting and defending democracy and liberty for all – just as Arnie would have wanted.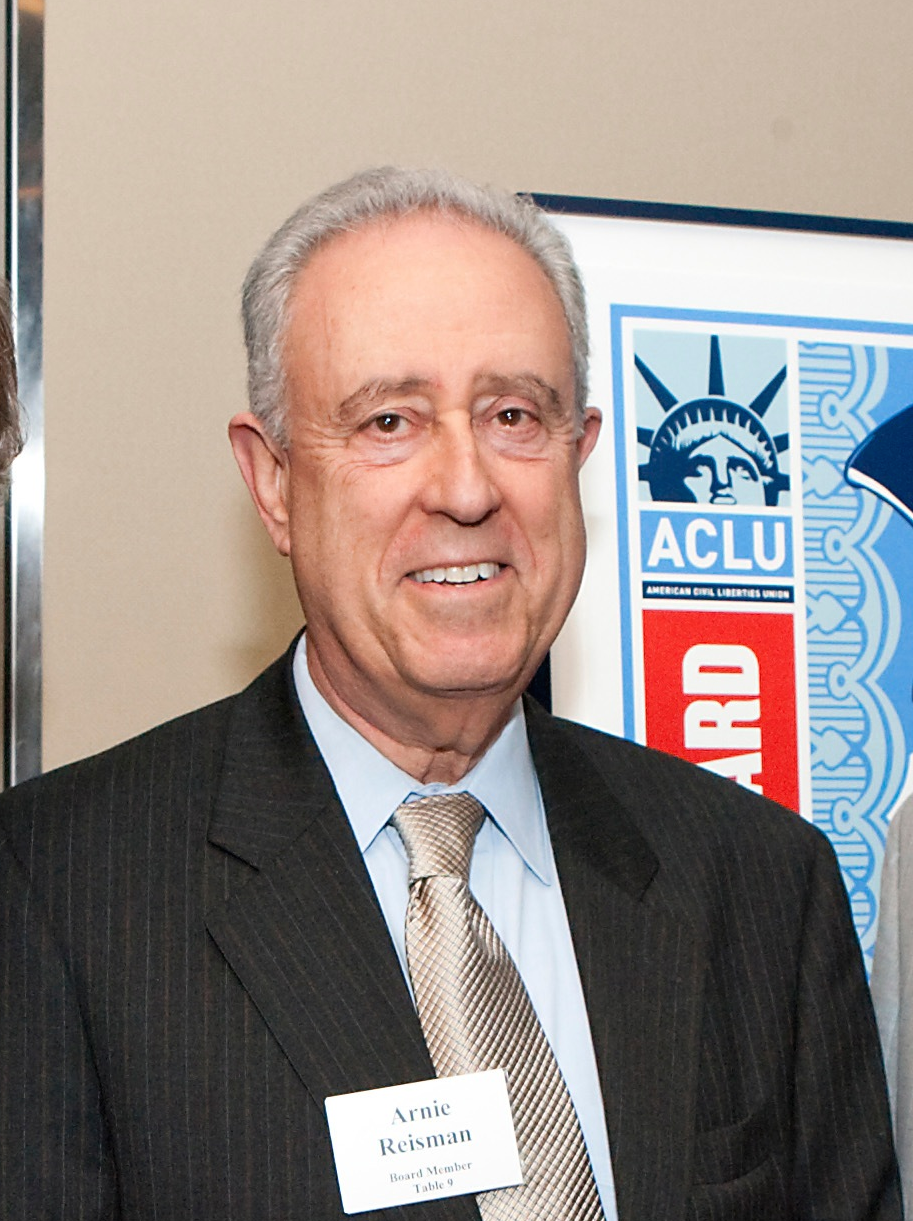 ---
ACLU of Massachusetts Commitment to Covid-19 Safety
For the safety of the entire ACLU community, we are adhering to our venues' policies for COVID-19 safety and offering a virtual ticket option for guests who wish to attend from their homes. The Westin Copley Place Hotel is following current CDC and City of Boston guidelines. Given the ever-changing status of this pandemic we will continue to monitor these safety measures, and contact all guests with any updates.